To My Readers:
The "Condo Available for Sale" section will be unavailable.
For similar info, call Michael Longden & Rosemarie Upfield at 416-383-1828.
For my current clients, the Property Match Reports and Market Email Alerts will continue as usual.
As always, please send me your feedback to: feedback@GTACondo.com.
Sorry for the inconvenience. "CONDO AVAILABLE FOR SALE" section will return soon.
---
---
About 60 Ann O'reilly Rd:

60 Ann O'reilly Rd is a condo project in the community of Henry Farm in Toronto, Ontario.
---
---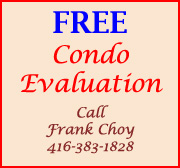 DISCLAIMER
Data and/or links at this web site have not been audited for their correctness and/or completeness.
Independent verification for the accuracy of the information is advised prior to taking any action based on the content of this web site.
Copyright 2001-2018.