---



FRANK FU YUEN CHOY Sales Representative
HomeLife/Vision Realty Inc., Brokerage
Independently Owned and Operated
(416) 383-1828
frank@gtacondo.com
Not intended to solicit clients currently under contract.
---
125 Village Green Sq
Scarborough Ontario M1S 0G3
---
QUICK SCORES
---
Please see DISCLAIMER.
---
INDEX
---
---
---
---
---
How much did they pay for a condo in this building? (A price chart.)
Please note that price of property depends on market condition and its size, upgrade, view, location, etc. Call me for details.
---
---
The Differences are:
MONEY, SERVICES, PASSION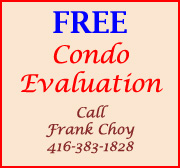 ---

DISCLAIMER
Data and/or links at this web site have not been audited for their correctness and/or completeness.
Independent verification for the accuracy of the information is advised prior to taking any action based on the content of this web site.
Copyright 2001-2013 GTALink Inc.
---